Holograma embalagem cigarro rasgo fita para acondicionamento de caixa
Pacote:

Saco PP e caixas de embalagem de holograma para dentro, caixa padrão da exportação e cinto branco embalagem exterior

produtividade:

10000000000

marca:

NHAC

transporte:

Ocean,Land,Air

Lugar de origem:

Suzhou

Habilidade da fonte:

1000000/Month
Informação básica
Modelo: YXCP-06
Tipo: Hot Melt Adhesives
Eficácia (para fita): Uso diário
Material de etiqueta: Filme laser
Materiais de superfície (para adesivo): Poliéster PET
Material de superfície: ANIMAL
Adhesivo (para etiqueta): Etiqueta adesiva
Técnicas: Impressão offset
Tipo membrana (para adesivo): ANIMAL
Papel de suporte (para adesivo): ANIMAL
Sample: Available For Free
Pattern: Generic Or Custom Hologram
Keyword: Tear Tape
Thickness: 35micron
Width: 0.7-3mm Customize
Color: Gold, Silver, Transparent
Security Features: Micro Text, Flip-flop, UV Ink
Packaging: In Roll With 5000m Or 10000m
Feature: Brand Protection And Promotion
Descrição do produto
Holograma embalagem de cigarro rasgo fita para caixa de embrulho
Para fins promocionais e embalagens de segurança holográfico rasgo fita pode ser usada. A fita de rasgo feita pelo laser de imagem de Suzhou são amplamente aplicável para as embalagens de cigarros, cartões, comida, medicamentos, artigos de papelaria, produtos audiovisuais, etc. De acordo com a demanda do mercado, nós podemos fornecer todos os tipos de holograma rasgo fita com desenho livre.
Especificação de Tear de fita
| | |
| --- | --- |
| Type | Holographic Packaging Tear Tape |
| Material | PET, BOPP |
| Color | Transparent, Silver, Gold, etc |
| Thickness | 28, 35, 36 micron (general) or customize |
| Width | 0.7-5 mm, custom is available. Minimum size 0.7mm |
| Pattern | General or Customized |
| Feature | Brand protection & Promotion |
| Usage | Applicable to outer packaging of food, medicine, cigarette, cosmetic, etc |
| Length of roll | 5000-10000m per Roll, based on customers' requirements. |
| Sample | Samples are available for free |
| Price | According to different sizes, quantities, materials & processes |
Holograma tear de fita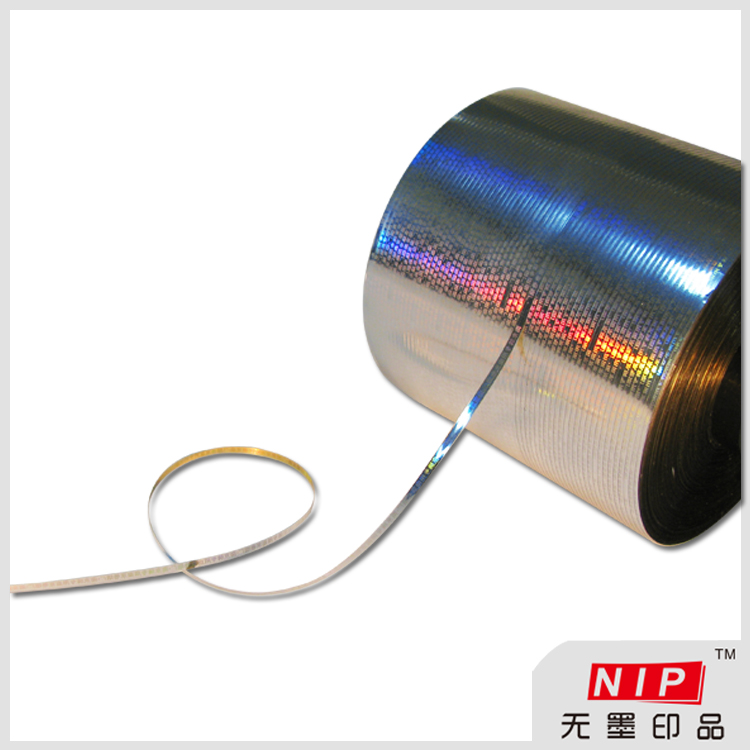 Cigarro de holograma Tear de fita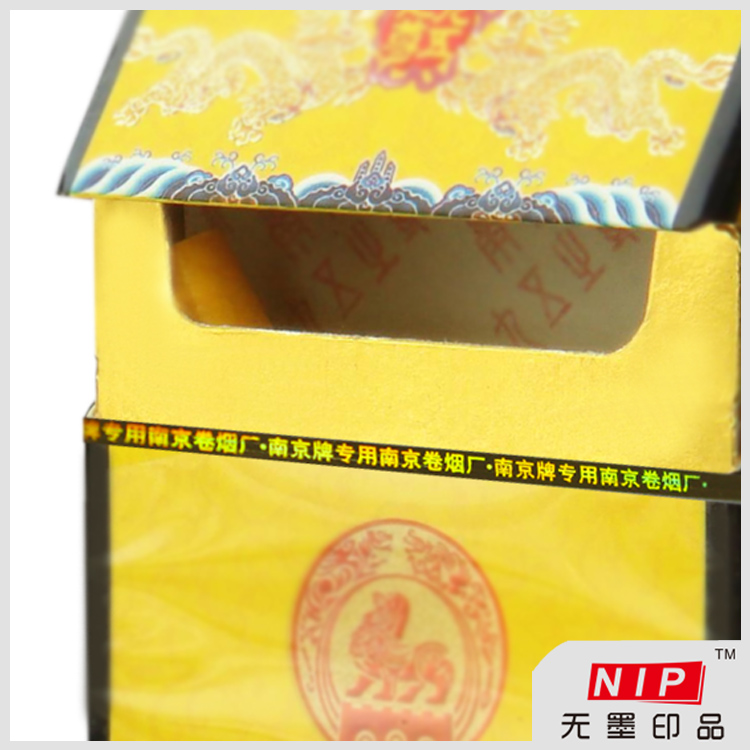 Nós igualmente podemos fornecer todos os tipos de fita de lágrima holograma como segue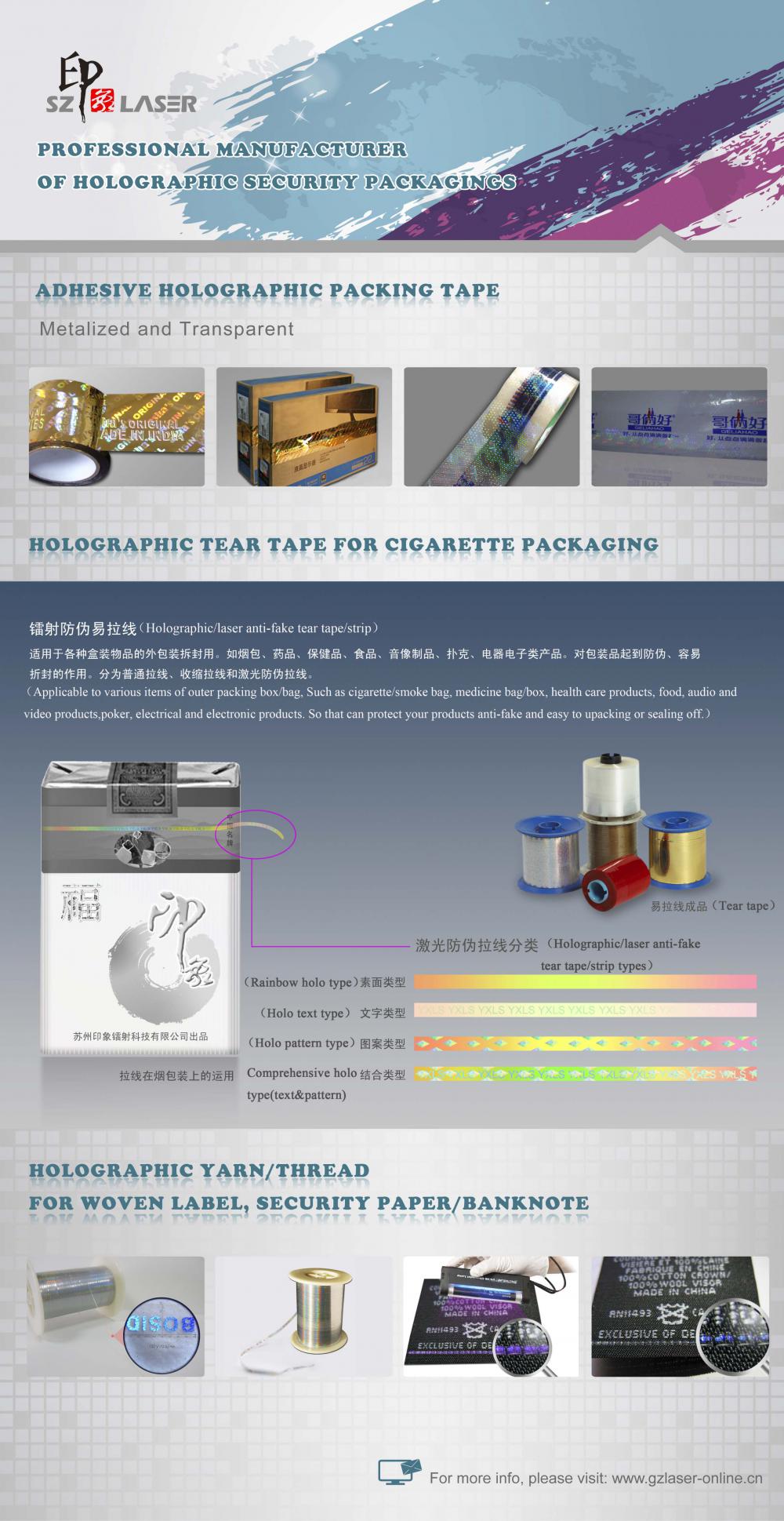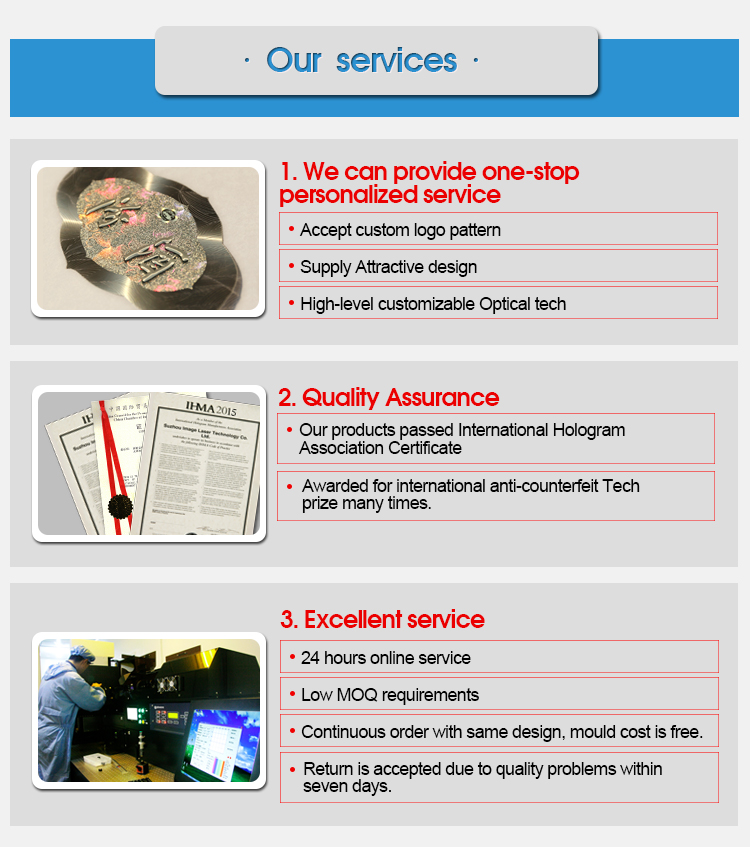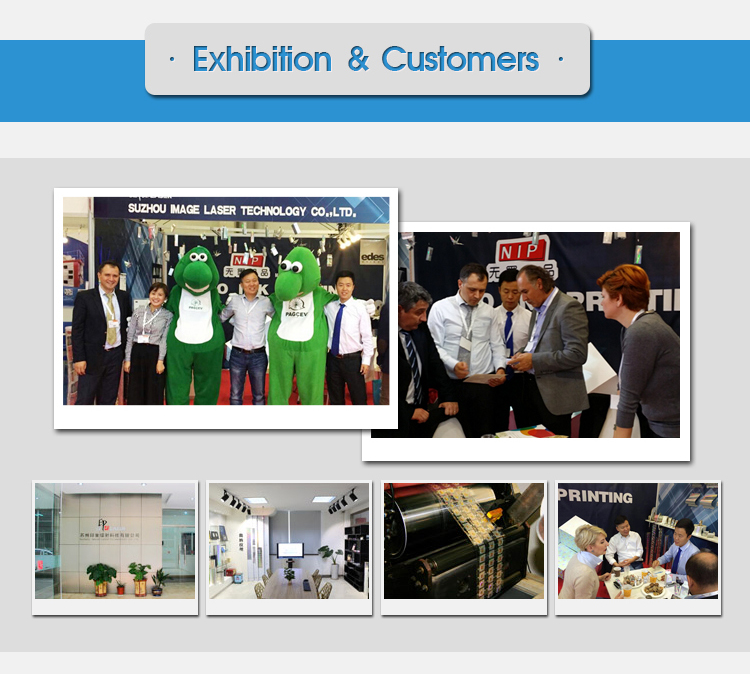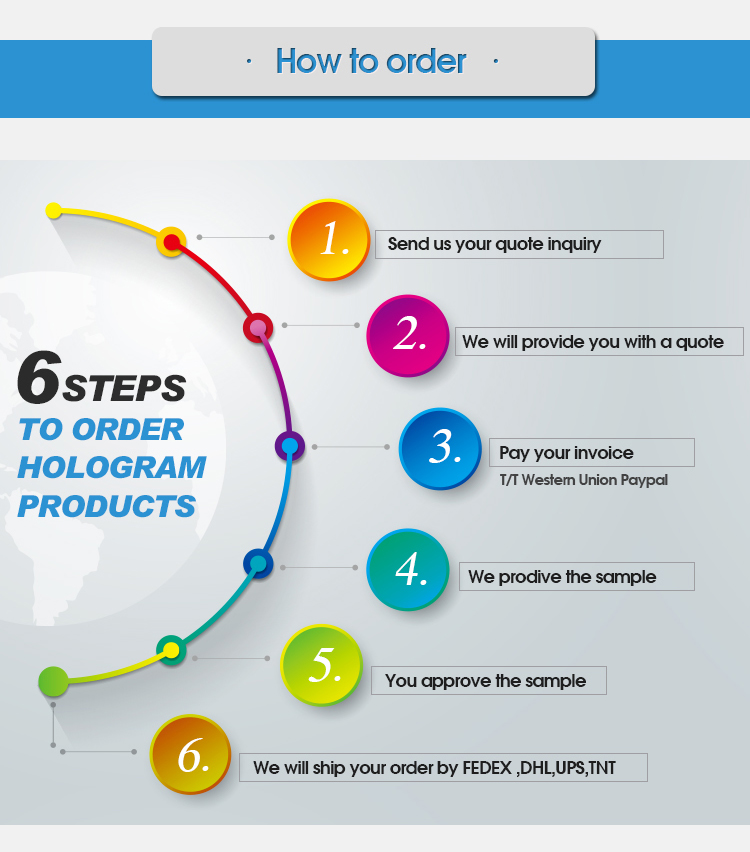 Perguntas frequentes
1. o que é seu material de fita rasgado?
Geralmente PET, material de BOPP com 28, 30, 33, 35, 36 mícron, etc
2. qualquer especificação, de qualquer cor, você pode fazer por mim?
Sim, disponível em várias especificações e cores, como 0,7 mm, 1mm, 2mm, 2.5 mm, etc. A cor pode ser transparente, ouro, prata, etc
3. você poderia me enviar algumas amostras?
As amostras estão disponíveis, podemos acabar com isso de graça com frete coleta.
4. posso usar o seu próprio padrão de logotipo para fita lágrima?
Claro, nosso designer vai projetar efeito impressionante de holograma para você. Podemos também adicionar texto Micro texto oculto, gravura de pixel, tecnologia de alta segurança etc para você.
Bem-vindo a visitar nossa empresa. Para obter mais detalhes, visite por favor nosso Web site.
Grupo de Produto : Fita holográfica lágrima > Fita holográfica lágrima
Enviar e-mail para este fornecedor