Original fazer etiquetas de holograma transparente para eletrodomésticos
Pacote:

Saco PP e caixas de embalagem de holograma para dentro, caixa padrão da exportação e cinto branco embalagem exterior

produtividade:

10000000000

marca:

NHAC

transporte:

Ocean,Land,Air

Lugar de origem:

Suzhou

Habilidade da fonte:

1000000/Month
Informação básica
Modelo: YXCP-03
Tipo: Adesivo adesivo
Material: ANIMAL
Tipo de impressão: Impressão offset
Característica: Anti-falsificação
Uso: Etiqueta personalizada, Bebida engarrafada, Etiquetas de preço, Etiquetas de remessa, Filme de embalagem, Remédio
Size: Customized
Sample: Available For Free
Thickness: 30 Micron
Shape: Square, Circle, Oval, Triangle, Etc.
Color: Transparent, Gold, Silver, Etc
Feature: Anti-counterfeit, Brand Promotion
Other Security Features: UV Ink, Serial Number, QR Code
Holo Tech: Hidden Text, Micro Text, Flip-flop
Keyword: Transparent Hologram Labels
Pattern: Custom Hologram
Descrição do produto
Original fazer etiquetas de holograma transparente para eletrodomésticos
Recurso de etiquetas de holograma transparente
1) holograma de alta transparência
2) holograma brilhante
3) reforço de marca
4) adicionais produzem valor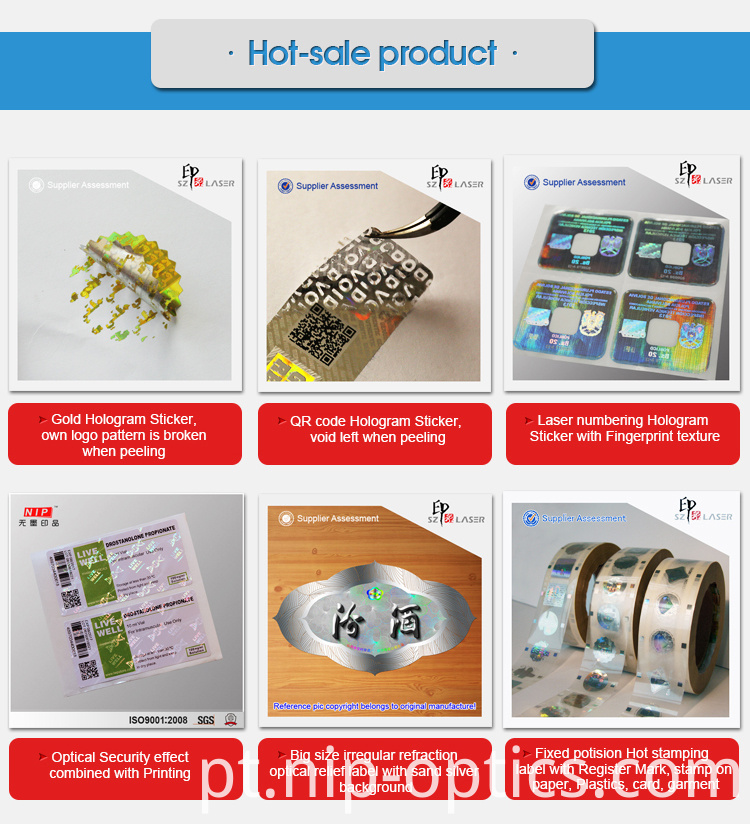 Especificação de
Item

Transparent hologram labels

Material

30micron PET

Color

Transparent, silver, gold, green, etc

Size & Shape

Based on customers' requirements

Type

Home applicance hologram label

Pattern

Generic patterns or custom hologram

Design

Supply professional free design for hologram sticker

Combine with other processing

Serial number, QR code, Uv ink, logo printing, etc

Feature

1) Eco-friendly

2) Anti-counterfeit, colorful, brand protection

3) Eye-catching design help you win the market.

Packaging

In roll or sheet, PP bag and hologram packaging boxes inside, standard export carton and white packing belt outside.
Faça adesivos de holograma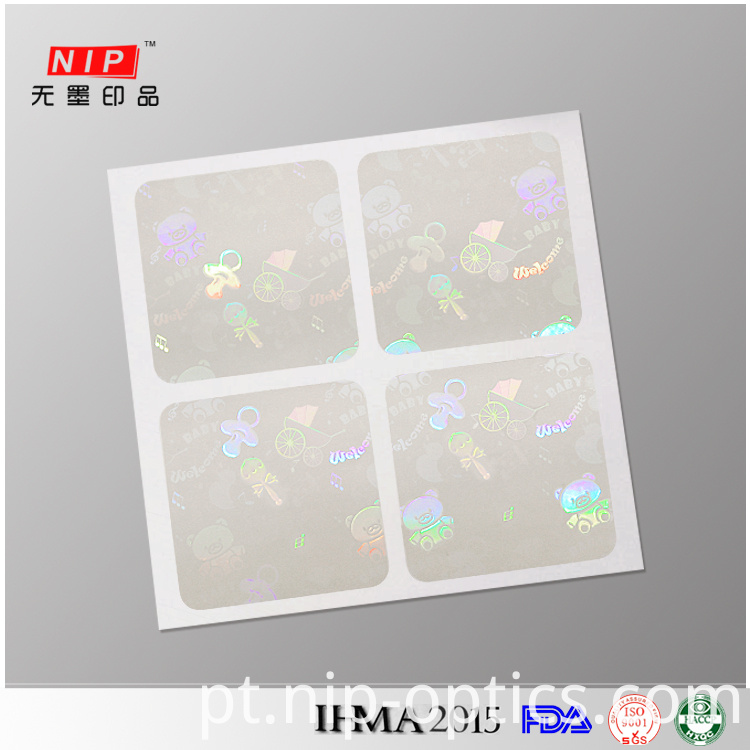 Etiquetas de holograma transparente
Etiqueta do holograma de diferentes tipos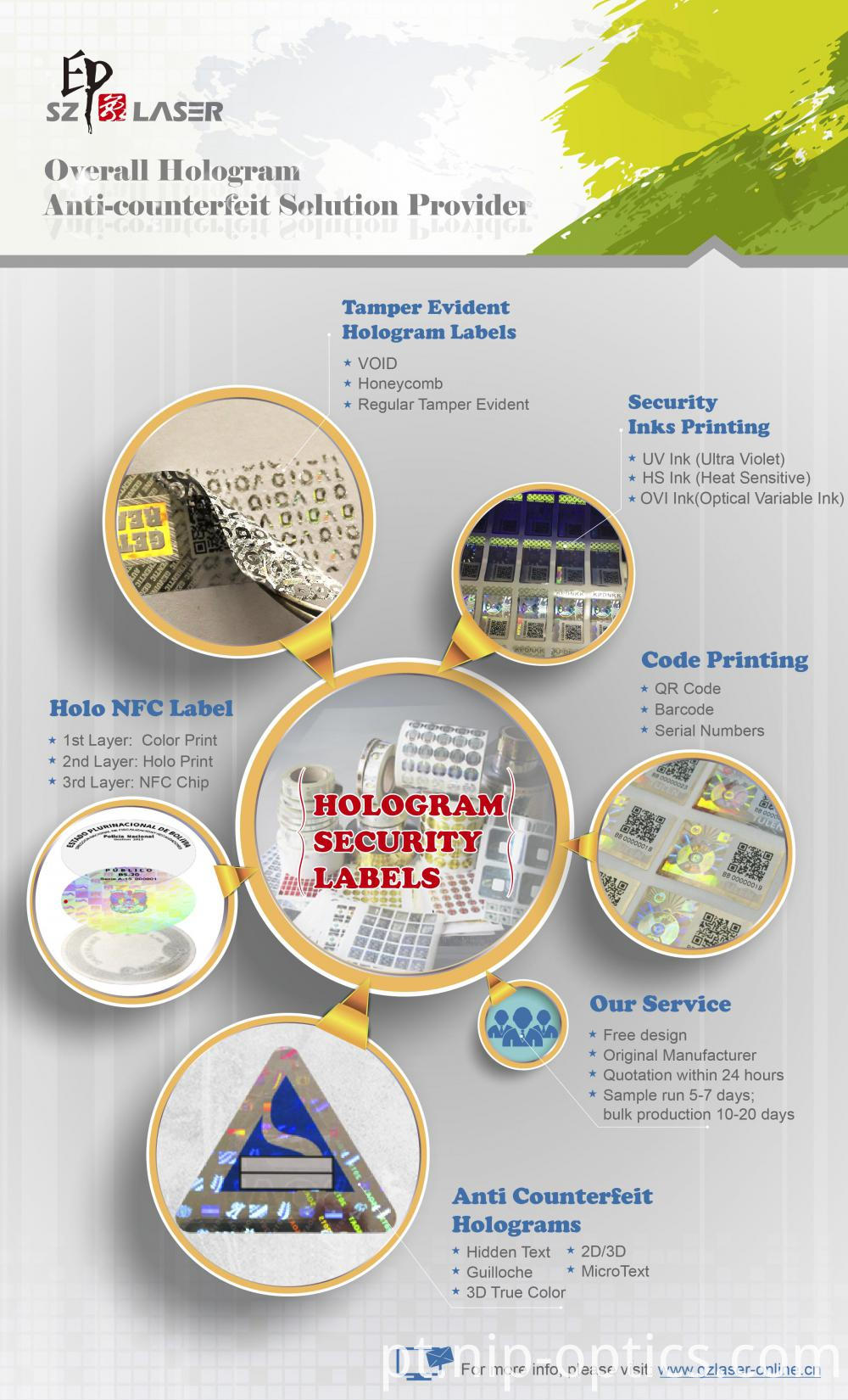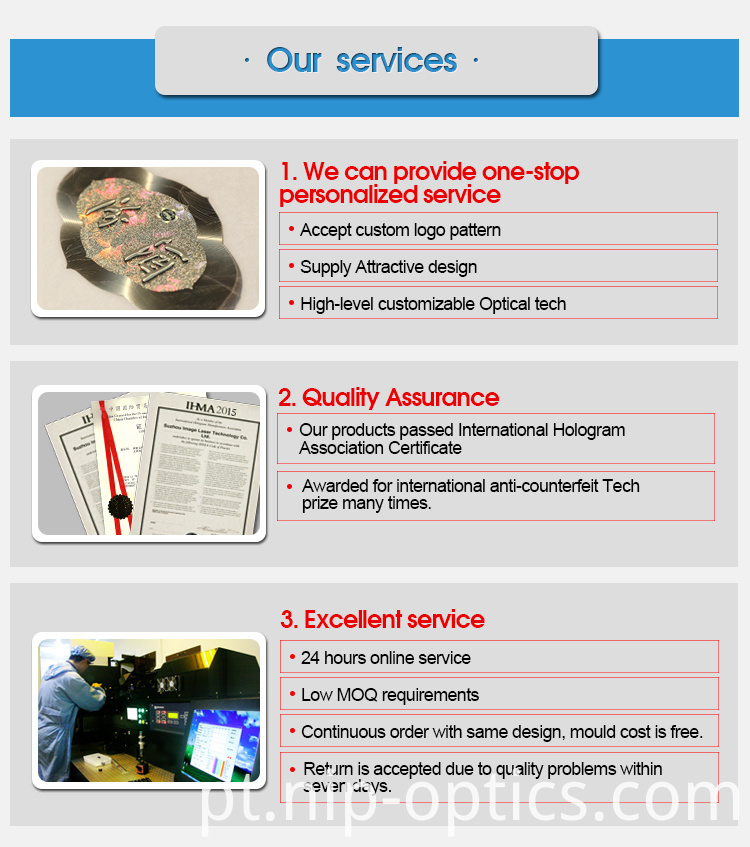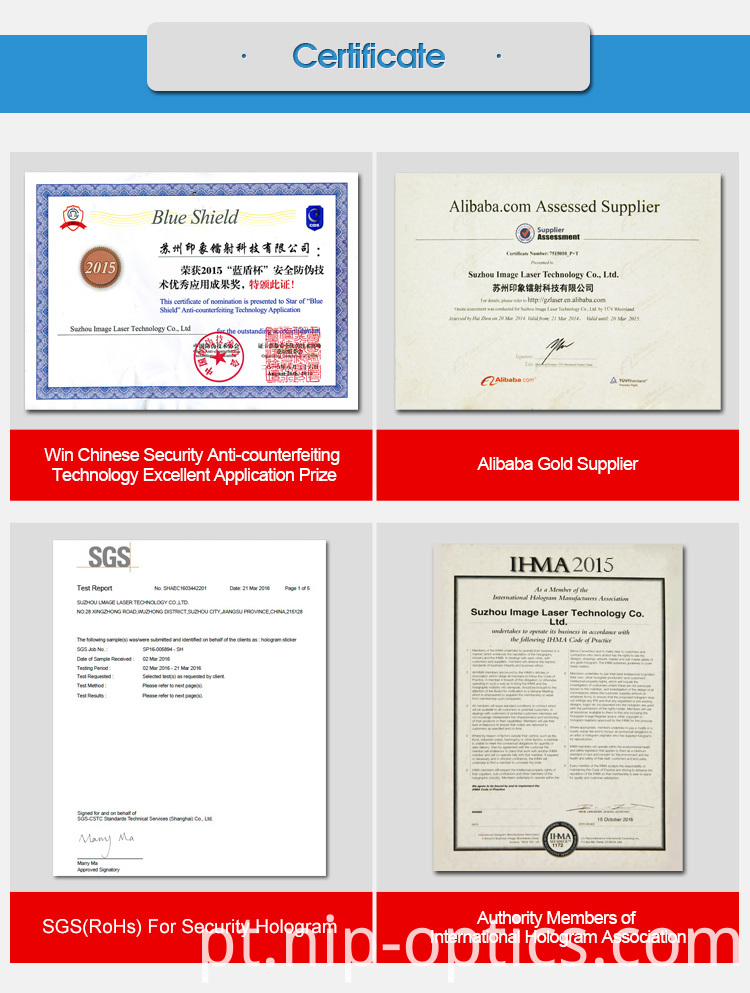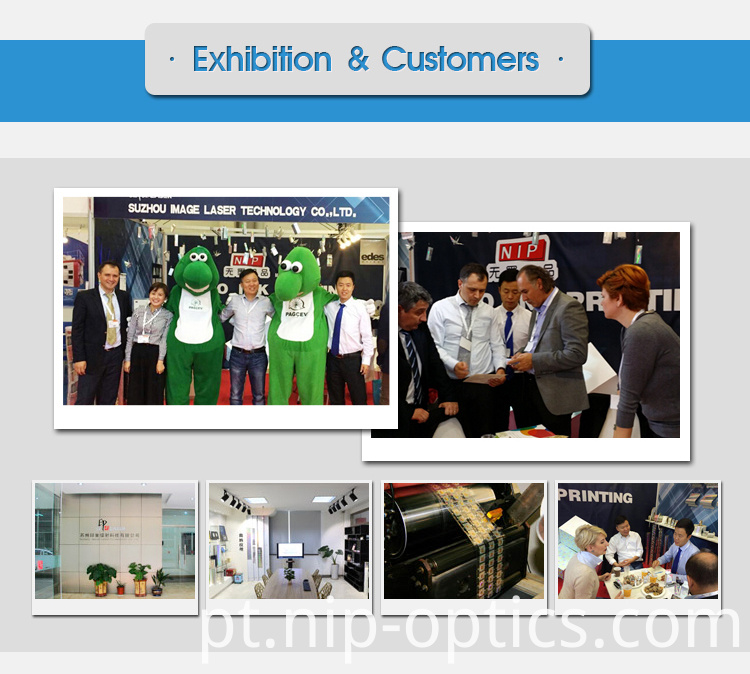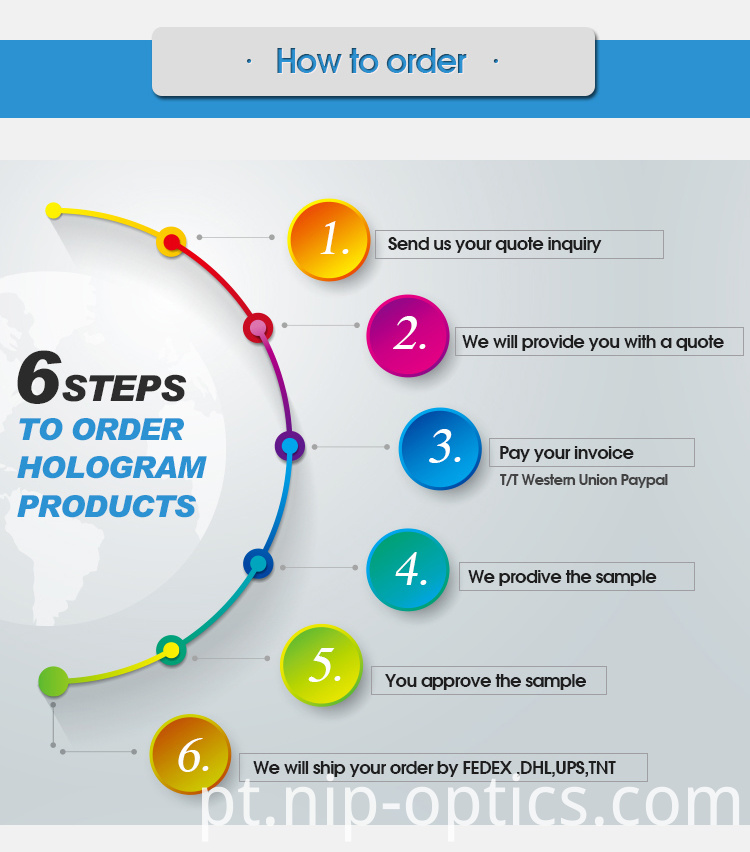 Perguntas frequentes
1. o que é o material da etiqueta do holograma?
Geralmente usamos material PET com 25 ou 30 mícrons de espessura, outra espessura 15, 20, 50 mícrons também estão disponíveis.
2. você pode fazer da calcadeira evidente holograma?
Sim, nós podemos fazer isso como VOID, favo de mel ou do cliente logo.
3. para o holograma, qualquer forma, qualquer cor, você pode fazer por mim?
Claro, nós fornecemos a etiqueta do holograma personalizado. Redondo, Oval, quadrado, ambos são okey. Transparente, prata, ouro, etc.
4. você pode me enviar algumas amostras de holograma?
As amostras estão disponíveis, podemos enviar gratuitamente com frete coletar.
4. preciso de carimbo quente do holograma, por favor, dê-me sua indicação de preço.
o preço é determinado pelo tamanho do holograma e obras de arte. Por favor, envie-nestas informações, para que possa avaliar e o preço exato para você.
5. posso usar o seu padrão genérico com meu logotipo impresso?
Sim, nós podemos imprimir seu logotipo sobre fundo de nosso padrão genérico, como genuíno, segurança, etc. Você também pode adicionar número de série, código de barras, código QR, etc
7. por que precisa de carta de autorização?
Nós somos fabricante de holograma de segurança produtos de . Precisamos de autorização para evitar cópia e falso. Além disso, pode proteger a marca e produtos do cliente.
Se você quiser mais detalhes, visite por favor nosso Web site, http://www.nip-optics.com/ ou http://www.gzlaser-online.cn/
Grupo de Produto : Etiqueta do holograma > Etiqueta do holograma de padrão genérico
Enviar e-mail para este fornecedor